NOTE: This wiki supports using Monobook as the skin. To get the full everything, then
log in or create an account and switch to monobook in your preferences. 

Welcome to the War Wiki,

121 articles, 27 pictures, 0 users and 998 edits.

Fake Wars
Fake Battles
Fake Countries

Fake Generals
Fake Technology
Fake Places

Wow a Lot of fakes, eh?
Real Awesomeness!
Featured article 

(Check back later for today's.)

The Battle of Siffley was a battle from May 16, 2011-present. The battle began on May 16, when a column of Efden tanks entered Siffley, pushing out the 4,500 soldiers there known as the "Siffley Garrison". The battle continued on and 25,000 Efden reinforcements poured into the city. As of now (May 10), about 2% of the city is in Efden hands. (See more...)

...that the War wiki was founded on March 19, 2011?

...that the War wiki was renamed 3 times?

...that it was originally called "The Board Game Wiki"?

...that this wiki hit the 50-article mark on May 20, 2011?

...that this wiki has 121 articles, even though it has only been up for 5 months?

...that

Takecommand

made his 400th edit on

August 30th, 2011

?
|Today's featured picture 

(Check back later for today's.)

}}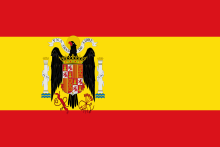 |The flag of Spaen.}}}}
Featured User
Takecommand
Held from June 6, 2011-present
Other areas of War Wiki
Coming soon
War Wiki's sister projects
None
Ads
Ads are coming soon!
---
TBA
---
}
<poll>How many times do you visit this site per day? 1-2 times 3-4 times 5-6 times 7-9 times 10+ times </poll>